This post is just the tip of the iceberg on this subject. For much more, check out
THE BUZZ SEMINAR
where Frank and his partners drill down deep on the principles of blogging and authoring books and how to earn an income from your writing passion.
In 2012, I took some new steps to increase the reach of my blog. I did this for two reasons. 1) I wanted to get the messages that are on my heart out to more readers, and 2) I wanted to increase the income that this blog generates.
While my blog and podcast are completely free, I earn income from advertising and affiliates. I never knew that becoming a professional blogger was possible, but it is.
In a future post, I'll talk about some steps you can take to becoming a professional blogger (for those of you who are interested). But in this post, I want to sketch out how to start a blog in less than 10 minutes. Just follow each step and you'll have a brand new blog by which to reach the world.
I suggest you open up this post on your browser in one screen and then open up a new screen to follow each step, point by point. If you have friends who are interested in blogging, please share this post with them.
You can also watch the video of these steps by clicking here.
15 Easy Steps for Creating a Blog from Scratch – Demystifying the Process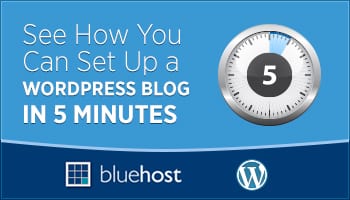 Step 1. Click BlueHost and click the SIGN UP NOW green button. BlueHost is the only web hosting service I recommend. It's inexpensive and the support is awesome. You can also get domain names from them at great rates.
Step 2. If this is a brand new blog, type in a domain name in the I NEED A DOMAIN NAME box to see if the domain name is available. If you want to transfer your existing blog to BlueHost, click your domain name in the I HAVE A DOMAIN NAME box.
Step 3. Once you've settled on a domain name that's available, fill out the registration form.
Step 4. As you can see, you can set up your blog for 12 months at $7.95 per month or get a lower rate for a longer period of time. I pay $4.95 a month for 3 years. Select Confirm for the Service Agreement and click the blue NEXT button at the bottom.
Step 5. When you are taken to the next page, click the blue CONTROL PANEL button at the top.
Step 6. When you see the welcome message, scroll down to Software / Services (heading) and click the WORDPRESS button.
Step 7. Click the green INSTALL button at the bottom.
Step 8. When you get to the next page, go to Step 2: Advanced Options and give your new site a name in the box.
Step 9. Create your own password in the Password box.
Step 10. Check both boxes under Step 3: Legal Information.
Step 11. BlueHost will now create your new WordPress blog (you'll see an "In Progress" time stick).
Step 12. Your blog is now ready to go! Open up a new window on your browser and type in the name of your blog. Example: www.mynewblog.com
Step 13. Click the Log In link on the right and enter your username and password. (Admin & Your Password). You can save the password if you want by clicking on the box that prompts you for this.
Step 14. Click on Appearance on the left-hand panel and click Add New Themes to change your blog theme. When you find a theme you like, click on Install and then Activate.
Step 15. Click on Posts on the left-hand panel and click Add New. Type out the title of your new blog post in the top box and begin typing the post in the large middle box. When finished, click the blue PUBLISH button on the right.
You're done!
Click here to see these steps in a video and see my six reasons why I recommend BlueHost over every other hosting service.
If you want to add a KILLER theme to enhance your WordPress blog, I recommend StudioPress Themes. They are beautiful, inexpensive, and very powerful.

See also The Buzz Seminar for training on blogging and writing.
P.S. Here are 6 reasons why I recommend BlueHost.
Ever since I became a professional blogger, readers have asked me what blog platform I recommend as well as what blog hosting service I endorse.
The answer for both is BlueHost . . . hands down.
As I argued in this podcast episode, I believe every Christian should have a blog. Even if you're not a writer, having a space online is important in our day.
Here are the reasons why I recommend BlueHost over other hosting services:
1. BlueHost uses WordPress, which is my preferred platform. I won't use anything else. It's much better than Typepad and Blogger.
2. The price is incredible. You can get a 3-year hosting service for as little as $4.95 a month.
3. It's reliable. I've used other hosting services and was frustrated to find that my sites were down often. Since I've used BlueHost, I've not had one problem.
4. The customer service is as good as it comes. The folks at BlueHost are very helpful should you have any questions.
5. They have an amazing affiliate program. They give you $65 for every new account that is referred by you.
6. They have an easy to use step-by-step process to start a blog in 5 minutes. In this post, I give you all the steps.
7. I also highly recommend Studio Themes to get your blog looking stellar.
You can also view this step-by-step video. Open up the video in one window on your browser and click Full Screen on the right in the Youtube video. Then open up another browser and click this discount link: BlueHost and follow the instructions on the video.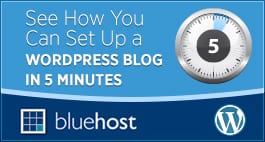 by